My youngest daughter has a reputation for seriously loving her dolls to the point of slight destruction. This would make some collectors/parents cringe but I pretty much roll with her level of play. She's getting older and becoming more careful with Addy
but we still have issues to address by correcting, repairing and redesigning a few things. Today, unfortunately it's Addy's meet dress that needs attention.
The dress appears a bit wrinkled at most right?
Nope!!! My little one somehow crafting with permanent marker helped Addy's dress meet this fate. Yes, I know it's cringe worthy. I have tried....... Salt, laundry detergent, window cleaner, vinegar, baking soda, stain fighters including products I've forgotten about and this is the final result.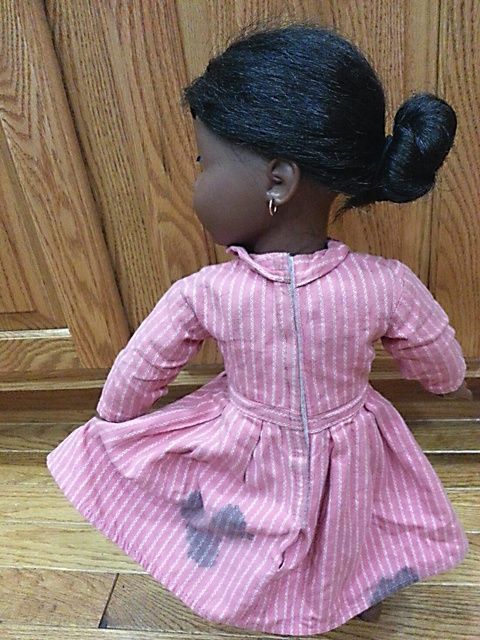 Although this is my daughters dress it was just hard to look at and needed some solution. So, I asked my daughter what she thought about dyeing the dress to hide the stain. She was excited about the idea because she felt guilty about making Addy's dress "raggedy."
.........Off to the market for supplies!!
Turns out.... all we needed was dye. I modified the instructions a bit by using a waste basket as a dye bath, we used a shot glass to measure two large ounces of dye for 1 1/2 gallon of super hot water. We didn't stir constantly as suggested in the instructions, but we did let it soak for a few hours.
The dress had to be re-dyed because the dye didn't take as well as it should have. So, for the re-dye we added a cup of salt to the dye bath, that I foolishly left out in the first round. Then I rinsed, and rinsed and rinsed and rinsed until I decided to toss it in the washing machine. Two washes and dyer later my daughter was happy with the color and coverage of the stain.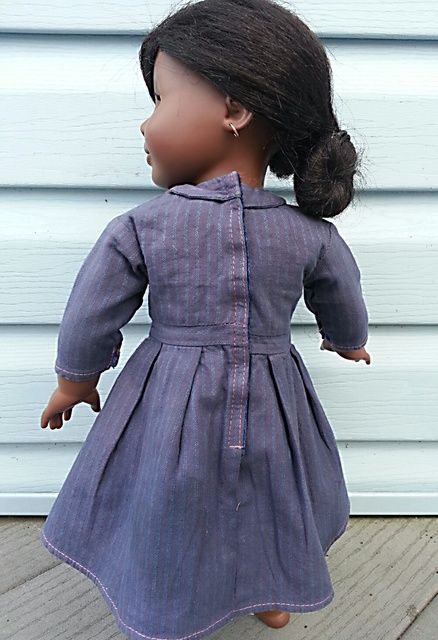 Here is a close up of the stained area.
Our expectation was for more of a blue color but it turned out much more purple. However, we are super happy with how her dress turned out and purple is one of our favorite colors.
Hopefully, I will be able to do this again under different circumstances. It was fun and I getting a few ideas!!!