I missed out on this girl because she retired before I began collecting American Girl dolls. Then again, I missed her when I was on an American Girl spending freeze, during a Jill's Steals and Deals. So, I couldn't resist when a fellow board member on AGplaythings offered her up for sale. I'm such a sucker for the Addy mold. Even though I have two Addys, Mae Francis #26, and Camille a custom #26, I continue to want more. Now!! #50 is here and she is my new Chick of The Year. This sweet girl remains nameless because I want to pick the perfect moniker. Her hair is gorgeous. She is my first doll with layers and I love, love, love them.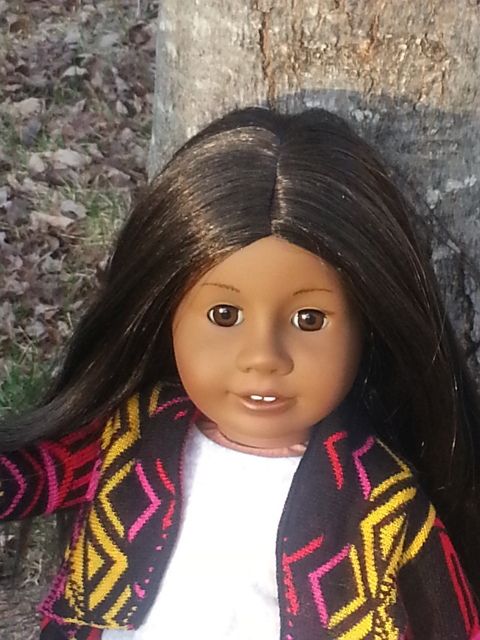 Here she is wearing Saige's Sweater and shirt.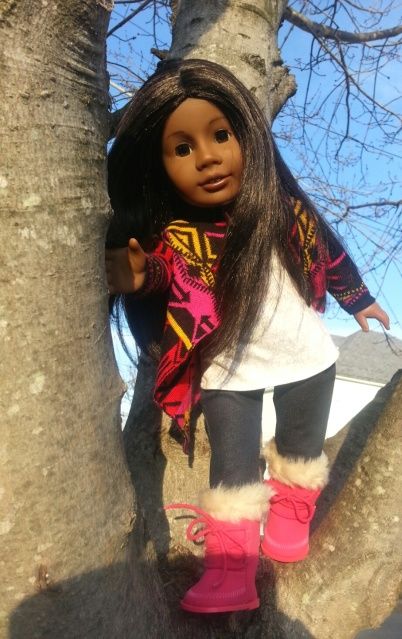 .....And hanging out in a tree sporting Our Generation boots. It's much too cold for Saige's sandals!!
Her jeans are from the MY American Girl Weekender Outfit. Saige's leggings are not conducive to a photo shoot HA!!
Keeping a careful eye on the human kids!! I have a hard time resisting that face..
So cute in the Weekender Outfit!!

There will come a day... When I will do a comparison of all my Addy molds. I think I may need #58 first HA!!. When I do, I'll post it here for all to see these beautiful girls. Thanks so much for checking out my new Chick of the Year!!