Kirsten was my very first TLC
project, until she wasn't. I rescued the poor wretched girl from EBay as a Pre-Mattel, also know as a Pleasant Company doll. She seemed to have a decent head of hair and working eyes, so I figured this was an easy job for me. I planned to tighten her limbs, wash her stuffing and body, then treat her hair to a shampoo and conditioning treatment. However, when she arrived her vinyl was GREEN. Yes...!! green.
After consulting with other collectors who'd seen this type of "green" vinyl, I decided to send Kirsten to the American Girl Doll Hospital for a wellness checkup. I sent her to the hospital paying shipping and included a check for $7.95 return shipping. Approximately two weeks later I received a brand new Mattel Kirsten and the Hospital returned my check for shipping. They also included a note stating that her vinyl discoloration was a defect and repairs were free of charge.
It's been almost three years and I have no attachment to this beautiful doll. Dolls that I buy to restore have a special place in my heart and collection even if they are later re-homed. My entire family including my husband (who has helped swap eyes out) are invested in the dolls journey to restoration. My issue with Kirsten is that I bought her to restore and serve her. Through my service to rescued dolls I learn to love them and accept them into my collection. When buying a brand new doll, it's a well thought out decision and I absolutely adore the doll. Well.... Kirsten is a brand new doll who has been in the doll closet for nearly three years and I feel just sick about our bonding issues.
Obtaining dolls who don't fit into my collection both annoys and saddens me. Doll friends should be in homes where they are adored and appreciated. Here is an outline of my plan to show Kirsten much needed appreciation and the attention she deserves. I'm getting the feeling she might want to trade me in for a new human friend.
First, we are reading her books!! My daughters and I are using Kirsten's books as read-a-louds for school. I'm learning that her books are full of not only great history but an interesting perspective on the lives of early immigrants. The experience through a child's eyes is a special treat for my girls. We are borrowing these books from the public library. I'm glad they had three copies, a small miracle at our tiny library.
Next, Kirsten enjoyed her very own photo shoot!!
Kirsten: Hello Everyone! I'm very excited to be out of the dark doll closet!! I have many friends there who often venture out for outdoor fun and I'm glad it's finally my turn.
Because one cute face photo isn't enough. I have included two!!
A quick wardrobe change and we are back outside. This time we need to gather some sticks and branches out of the yard. The March winds are definitely roaring through our part of the country. We must be vigilant about cleaning the branches, twigs, sticks and sometimes trees out of the yard. It makes mowing easier during mid-spring and summer and provides honest work for our daughters. HA!! The girls stamina and zeal fizzles pretty quickly for this job. Kirsten was no exception she also had other plans.
.......Like chasing Ladybugs and Stinkbugs who made their arrival known in an extraordinary fashion. It seems yesterday the bugs were in hibernation and this particular day they both came outta nowhere!! They were also accompanied by huge gnats. The gnats plagued only me. While trying to photograph Kirsten they covered my clothes and tried flying in my nose and ears. It was awful mainly, because I wasn't expecting them so soon and because I wasn't armed with some sort of repellent.
Kirsten hoped the ladybug she found in the bush would stick around and play. Instead it flew away when she came too near.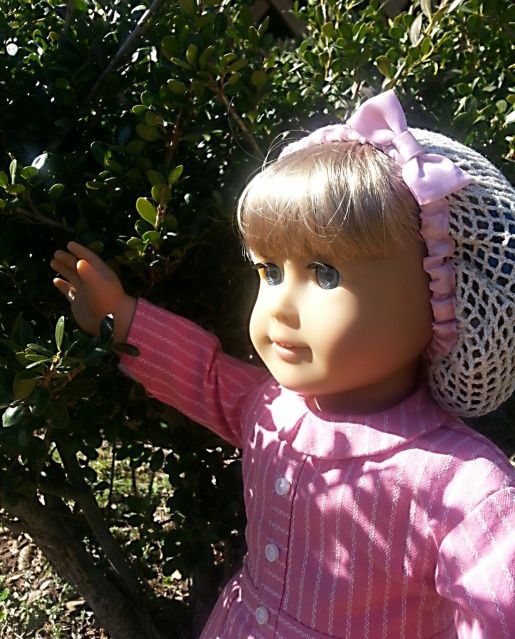 Again, because Kirsten is so beautiful, especially in Addy's meet dress and snood. I must take another photo of her beautiful face. I had no idea until dressing her in this dress that pink would suit her perfectly.
We headed back inside for a change of clothes and a break from fighting the glorious sun for a good photo.
Addy's Striped Dress doesn't look as flattering on Kirsten. The dress fits too loosely
and the color is bland on her. I realized I wanted to take her braids down, when the blue ribbons didn't match, but apparently, I have some phobia about taking them down.
Kirsten would have more appeal to me if I felt comfortable taking her braids down.
Reluctantly, she got redressed in her meet outfit, this time without her aprons. She did grab her bonnet on our way out the door. As you can see the wind was
ferocious and Kirsten could barely stand up on her own.
Kirsten is beat... She couldn't play or pose for one more photo. I'm guessing she enjoyed her time in the sun and fresh air.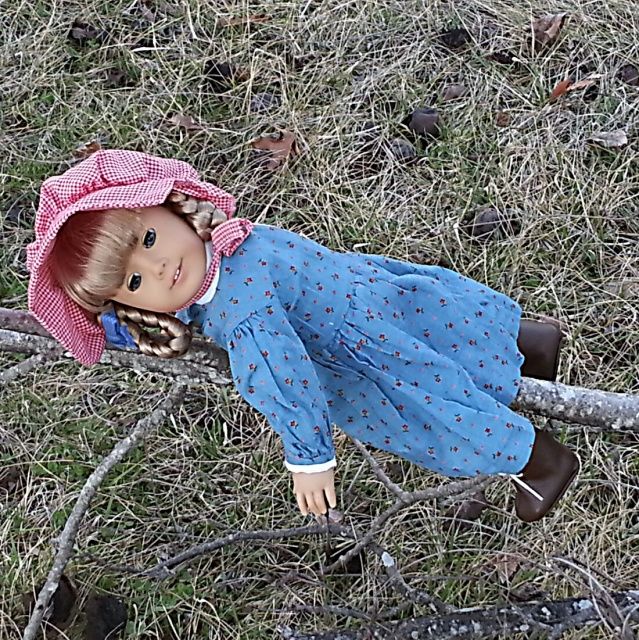 Kirsten: May I just rest here and take a nice long nap.
I learned a great deal about Kirsten during our day together. She's such a beautiful doll and I'm hopeful I can find a place for her among my other doll friends.
Have you had a doll you couldn't bond with? Have you ever felt you would ruin a doll if you undid her original hair style or clothing? Do you have a doll you're not sure you want to keep? Please share your experience and how you are handling this.