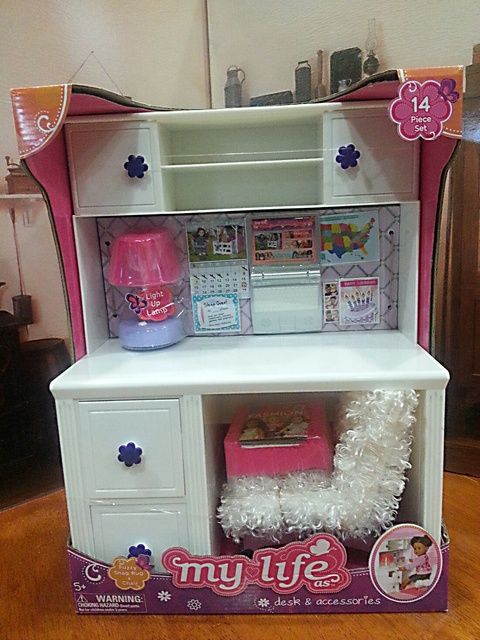 My Life As, simply known as My Life is a doll brand sold at Walmart. I purchased this set mostly for the lamp and desk accessories. The desk and chair is also a nice addition to our collection, but it hasn't been necessary. I thought you guys would like to take a look at this cute set available for $28.
Unboxing is interesting not so much as Our Generation, but it's a challenge when thinking of how easy it is to unpack American Girl items.
First up is the Rolling desk chair, it appears to be extra fluffy, plush and soft. The fabric..... is super soft and fluffy, however it covers a very hard plastic chair and is not at all plush. I'll have to be gentle with the chair because it does shed a little.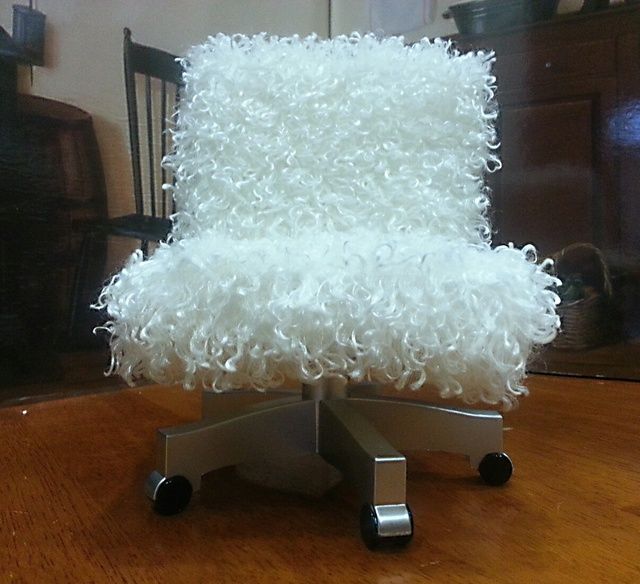 Here you can see the faux wheels. I have NO clue why I expected real rolling wheels but I did. I know crazy right?

Here's the cute area rug. It's very soft, furry and fits perfectly under the desk chair.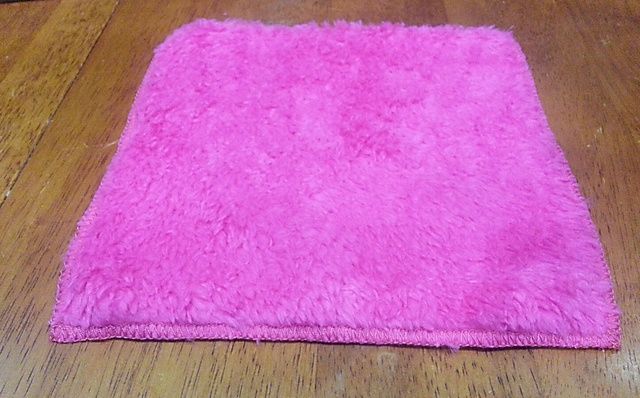 This is a view of the desk cabinets. The cubed shaped doors close tightly. You can hear them click shut!
While unpacking this portion of the set I was nervous about possibly losing the purple diamond backing. To my surprise the exact backing is included behind the accessory display. Though, if you're crafty you could cut squares and rectangles to fill the backs of the cubbies and cabinets.
Magazine, Stickers, Journal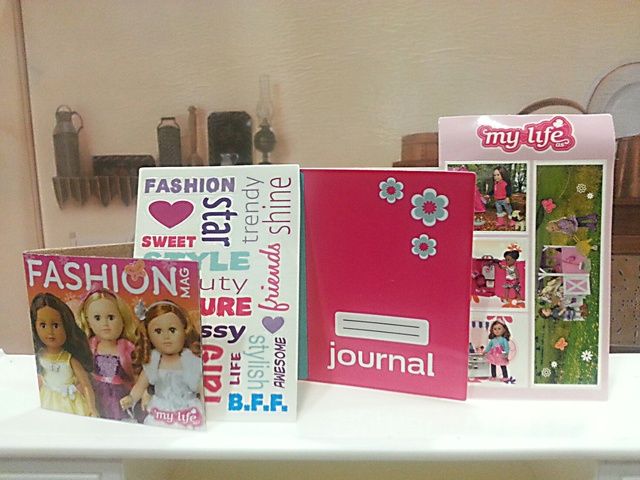 Inside look at the Magazine and Journal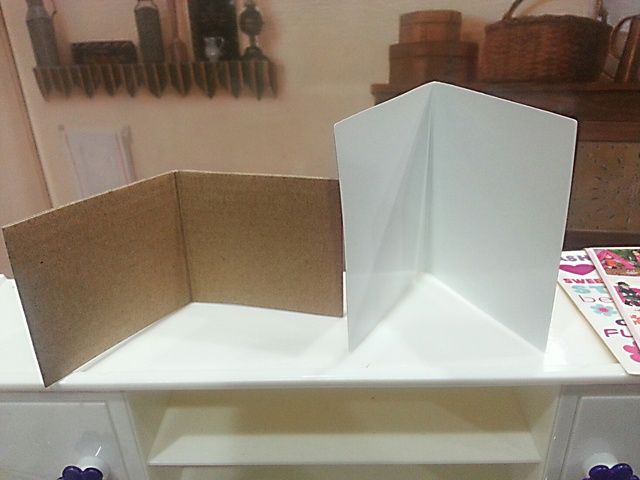 U.S. map, Calendar, Photo Strip, Birthday card, and Sleepover invite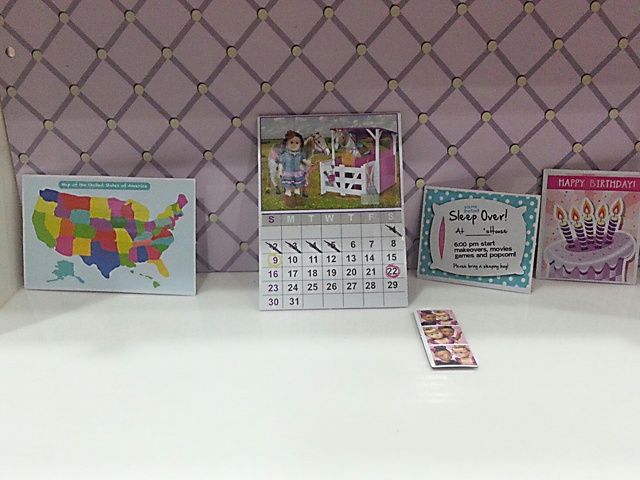 If you have an aversion to Cardboard accessories....You might want pass on this set.
The backs of map, calendar, birthday card, invite and photo strip.
I love this Laptop!! It's silver and has a cute home screen. We have quite a few doll friends and this is only our third computer. So, the girls are excited to have another computer to share.
This Sweet Tart of a lamp is also included. Press the white button and the light remains on for about 15 seconds. It's super frilly.... but I love this lamp. I like the different textures as well. It has a smooth base and a crinoline shade with a fluffy cotton material on top.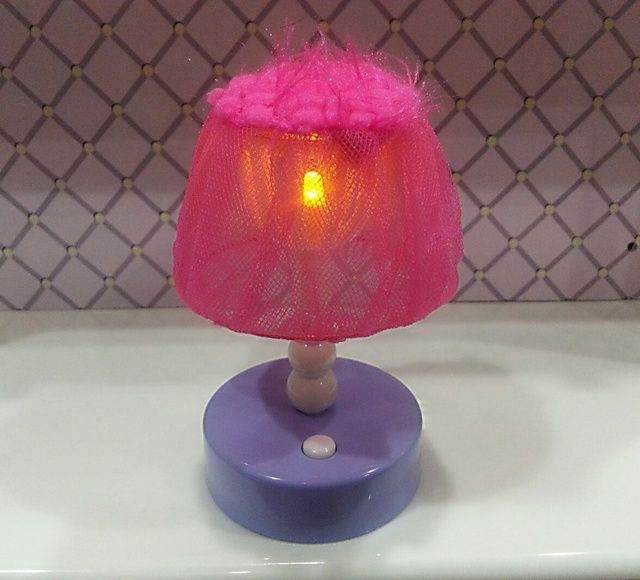 Take a look into the desk drawers. They are larger and deeper than I expected.
Lydia and Ivy were the first to try out the new furniture. I like the scale of the desk and chair.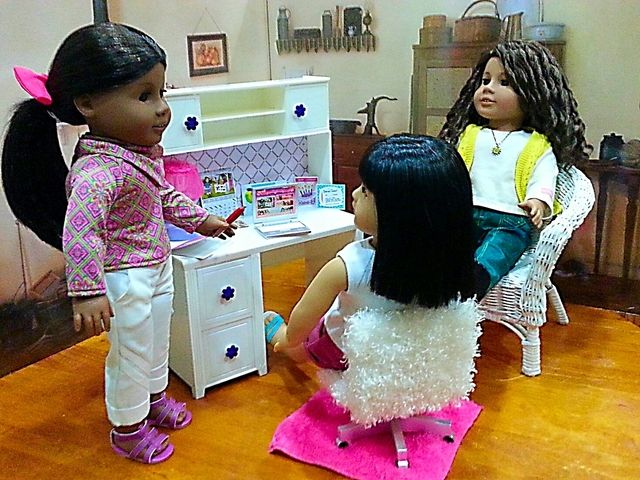 Storage for paper and tiny accessories is important. Ivy and Lydia packed the Lamp and cardboard pieces into the desk drawers with space to spare.
The rug also fits easily into the upper cabinet as shown by Lydia!!
I'm very happy with this set. It is a heap of plastic and cardboard, but for the price it's a fun and functional piece of furniture. The desk, lamp and rug are perfect for most kids, but I wish the chair was a color other than white and bred to not shed! The cardboard items may not last long with some kids, but they could easily be laminated with peel-n-stick laminating sheets. My daughters will enjoy playing with this set, because I won't need to hover. It's part of our collection.... but not heirloom?
"Hey does anyone wanna push me in the cool new rolling desk chair??!!"
Lydia and Ivy reply while struggling to put the new desk away.
"It has FAUX Wheels Mae Francis....Could you please bring the chair?"
"Yes, Yes I must have missed that...be right there"
Clearly, I still have issues with the wheels:)