Yesterday was a beautiful day to mingle with friends and spread some Easter cheer. It was also a glorious day, because Camille made her very first appearance since going off to have some "work" done at Jodybo's.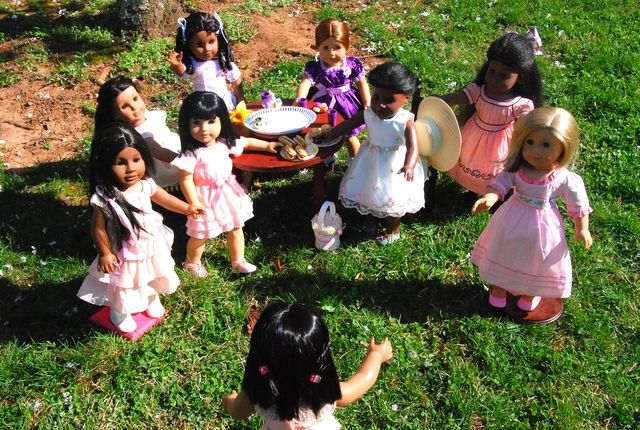 As you can see all of the girls were eagerly awaiting her arrival. I figured she should make a delicate but grand entrance to the party.
Here she is greeted by Lydia(#50) as Ivy, Cecile and my daughters Josefina wait for their turns to hear all about her adventure and transformation.
Cecile just could not wait any longer.....So she raced over to Camille to tell her how beautiful she looked with new eyes and freckles.
Camille was thankful and relieved that her friends loved her new look.
It is truly amazing to have a doll come back after customization. Camille is our first and hopefully not the last. Kit, my Addy, in her Cape Island dress and my daughters Addy bid adieu to Camille as she makes her way to greet other friends.
Cecile and Kit take a moment to catch up and reflect on their favorite Easter Activities. Sunrise Service is on the bottom of the list as 6:30am services are much too early for little dolls.
Emily and Ivy are excited to see Camille. Ivy is in awe of her gorgeous freckles.
...And more chatty girls. Emily, Lydia and Ivy are hoping for an Easter Egg Hunt....Maybe!!
Thank you all for reading about our awesome Easter Garden Party. We are excited to have Camille home and I hope to share the story of her customization soon.
What are your dolls doing to celebrate Easter and/or Spring??